Eastern North Carolina's Innovation Hub
Known as the technological hub of Eastern North Carolina, Wilson is a place where the WiFi signal is strong and our citizens' minds even stronger. The Gig East Exchange is an example of Wilson's growing reputation as a forward-thinking city. Gig East is a hub for everyday entrepreneurs, tech startups, remote workers, and anyone who values innovation in action.
Take a Tour
Watch a Video
Upcoming Events
Gig East is Wilson's home for technology and innovation networking. We bring the Research Triangle and Eastern North Carolina together to encourage entrepreneurial and community success and explore next generation technology.
Join Our Community
A cross pollination of great minds from many industries fosters community and breeds innovation. This belief is baked into our DNA. Becoming a member of Gig East is about much more than finding a cool new place to work. It's a call to innovation and community. Just ask our individual and corporate members like WRAL Digital Solutions and the amazing IoT companies taking part in the City of Wilson's cohort of the R!OT Accelerator Program.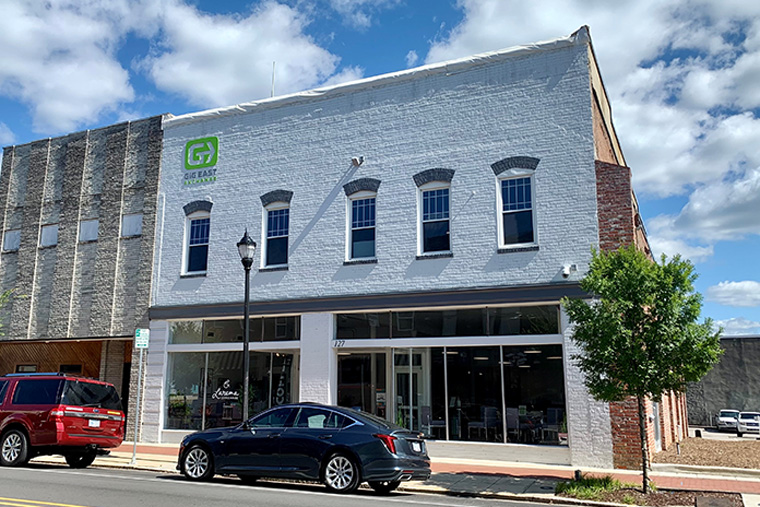 Coworking, Acceleration, & So Much More
Membership in the Gig East Exchange is membership in a community of some of the most innovative entrepreneurs, mentors, funders, and companies in Eastern North Carolina.
We serve entrepreneurs and entrepreneurially-minded people from the inception of a great idea throughout their journey.
Inclusive &
Welcoming Team
The Gig East team is friendly, experienced, and empathetic to the needs of entrepreneurs and anyone who possesses an entrepreneurial spirit.
Gig East is Wilson's home for technology and innovation networking. Our events focus around gigs – whether its conversation around our gigabit network, Greenlight, or creative conversations inspired by the Vollis Simpson Whirligig Park. We bring eastern North Carolina together to explore next generation technology.
Community Events That Make
It Clear: You belong here!
The Gig East Exchange is both a physical space and gatherings, intended to give people a chance to ideate, collaborate, and create.
Proximity to
Acceleration
RIoT, the North Carolina-based economic development nonprofit, works with early stage startups into their fourth cohort of the RIoT Accelerator Program (RAP), which launched in Wilson, NC in early 2020.
Innovation Is In Our DNA
Wilson truly has both a small town feel and smart city amenities. A City initiative, the Gig East Exchange fuels the future of technology and innovation by encouraging growth in our local ecosystem that transcend the agricultural industry, the one-time backbone of the Eastern North Carolina economy. With the Gig East Exchange, barriers will continue to be broken and innovators will find a new home in Wilson.
Key to our barrier-breaking strategy and entrepreneurial success is the City's Gigabit internet — Greenlight — the first of its kind in North Carolina. The Greenlight network is the fastest in the state and ensure that your internet connection isn't the weak link in your innovation strategy.
Meet the Community
The most powerful reason to believe in the Gig East Exchange is our member community. Membership in the Gig East Exchange is membership in the most important "social network" you'll ever join. Our members are collaborators at heart and help one another succeed.
Transportation
Government and Military
Artificial Intelligence
Digital Health
Marketplaces
Big Data
Education Technology
Virtual Reality
and more…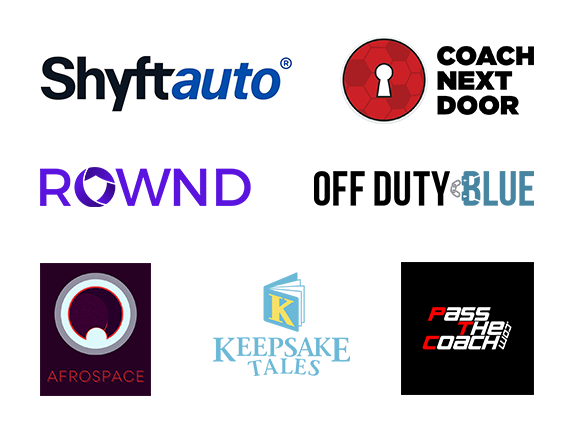 Apply to speak at the Gig East Summit 2023
We are currently taking speaker applications for the next Gig East Summit. If you are interested in delivering a great summit experience for attendees, networking with local community members and promoting your business, we would love to hear from you.